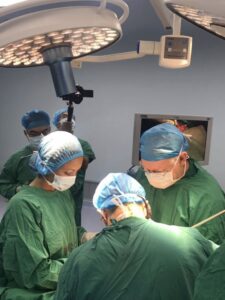 Dr. Nathalie Dauphin McKenzie is an award-winning, board-certified gynecologic oncologist with tremendous expertise and experience providing advanced surgical treatments including laparoscopic and robotic-assisted procedures for women with all types of gynecologic cancers.
With new advancements in science and technology, Dr. McKenzie continued to learn more about how to treat and care for patients. She continued to grow as a Physician and wanted to find a way to help give her patients a better quality of life.
Dr. McKenzie is passionate about helping her patients through cancer treatment and living with a good quality of life. She began to learn more about and research strategies that would lead to increased quality of life as well as longevity. Ultimately, she found that most of what she wanted to offer her patients could be imparted through a lifestyle medicine strategy.
With a little influence from her husband who is an Integrated Nutrition Coach and Wellness Chef as well as helping her 3-year-old son at the time, reverse his Autoimmune Disease, Juvenile Rheumatoid Arthritis with nutrition and lifestyle changes she decided to become board certified in Lifestyle Medicine. This additional area of expertise further enhances her ability to care for her patients.  At the same time she became board certified in Lifestyle Medicine, she was also completing an oncology leadership development program. The timing was perfect for her to develop and launch an intensive Cancer Wellness Program for her patients through which they could learn about the tenets of healthy living and a lifestyle medicine approach. As she continues to grow her Cancer Wellness Course for her oncology patients, her vision is to see this exciting new program branch out to all areas of cancer treatment.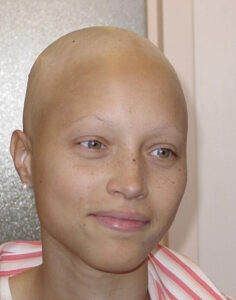 The power of this program is the connection Dr. McKenzie is able to make with her patients from Survivor To Survivor. Dr. McKenzie is an 18-year breast cancer survivor who provides a direct understanding of what her patients are going through at any time during their treatment. She provides compassionate, holistic, integrative, and state-of-the-art medical care to all of her patients. Dr. McKenzie, speaks four languages fluently and has connected on emotional levels with patients in various parts of the world. Always wanting to do more while caring for her patients, she carried the burden of wanting to find a better way to offer care.
Dr. McKenzie earned her medical degree with research honors in New York; completed residency and fellowship at the University of Miami/Jackson Memorial Hospital & Sylvester Comprehensive Cancer Center and also earned her Master of Science in Public Health and Epidemiology with honors while completing her fellowship training. She was then inducted into the Honor Society of graduate and professional schools the latest of numerous awards and accolades she has earned over her impressive medical career.
Most recently Dr. McKenzie was selected as one of 16 oncologists from all over the United States and the world to undergo extensive leadership training with the premier oncology society, ASCO. As a graduate of this leadership development program, she sits on national committees which monitor and provide guidance to oncology practices throughout the country.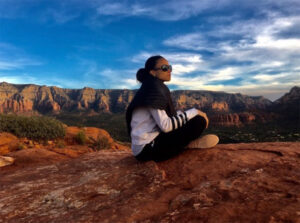 With a passion for teaching, she serves as the current Program Director of Gynecologic Oncology Fellowship and has affiliate faculty appointments with FSU and UCF Colleges of Medicine through which she regularly mentors students and residents.
Dr. McKenzie continues to be a leader in the treatment and care of patients diagnosed with cancer. Her vision is to continue to offer her patients more patient-centered cancer care that extends well beyond the orthodox treatments of surgery, radiation, and chemotherapy. The fundamental focus of her integrated cancer care is about getting her patients to utilize wellness, physically, emotionally, and spiritually as part of the treatment with the goal of improving their quality of life.
From Survivor To Survivor her multi-pronged approach of integrated cancer care and treatment recognizes the importance of treating the person as a whole not just targeting the cancer, WholeBody Care.